Polycarbonate FAQ's - Varico LTD
Polycarbonate, Glazing Bars & Roofing FAQ's
Polycarbonate. What is it? What are it's uses? How can I choose which polycarbonate sheet is most suitable for my project?
We will try to answer some of the most popular questions we get asked about our polycarbonate sheets. Hopefully these questions will help you to decide what you need and how polycarbonate can help you with your roofing glazing and display applications.
Which polycarbonate is best for my application?
There are two main types of polycarbonate sheet;
A structured sheet - often called multiwall, twinwall, triplewall etc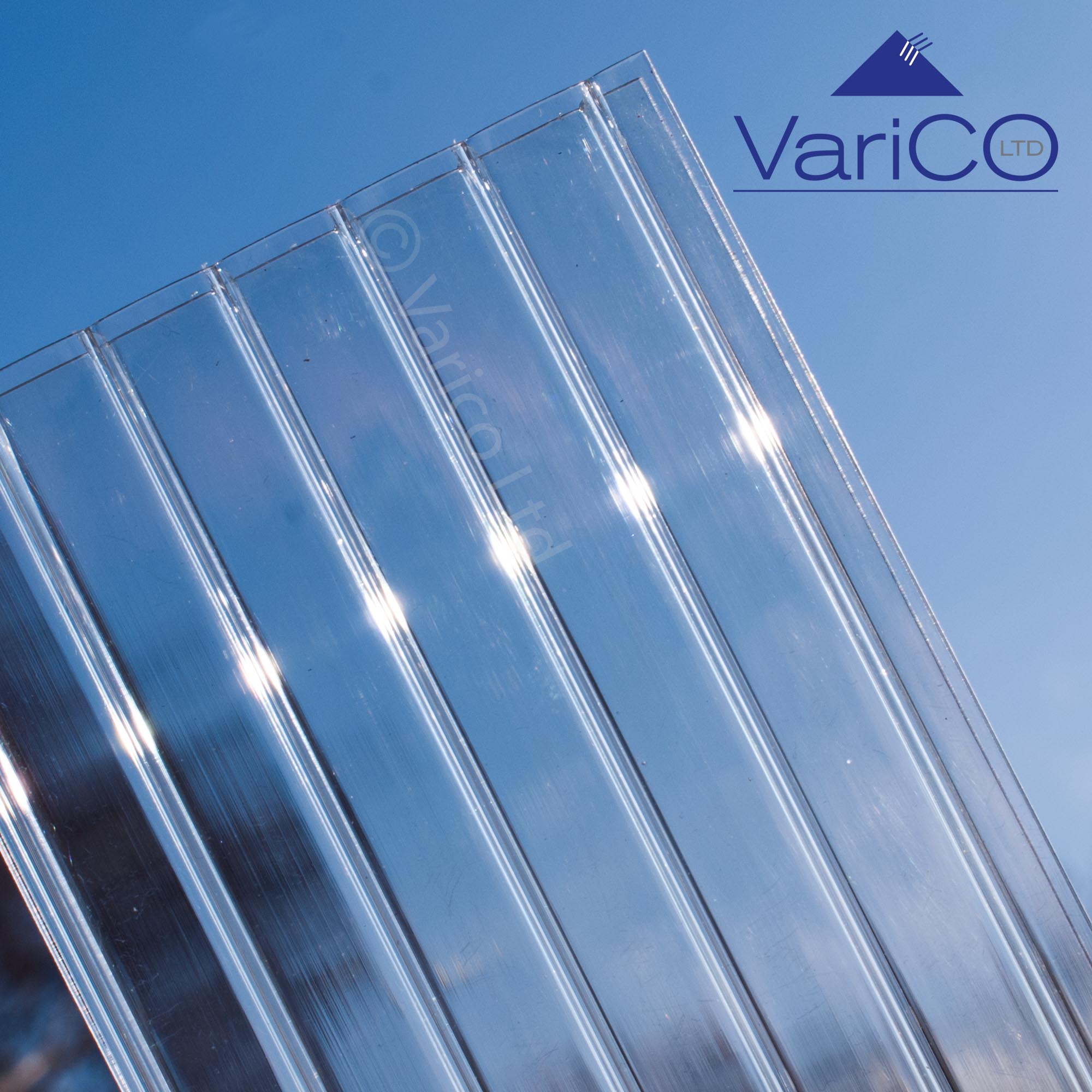 This type of roofing polycarbonate lends itself excellently to many applications such as carports, conservatories and canopies. It is lightweight, easy to use and will give excellent weather proofing for many many years.
The other popular type of sheeting is solid polycarbonate - often called flat or compact polycarbonate sheet.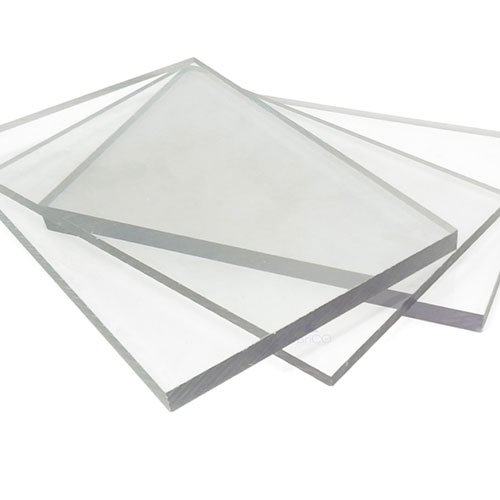 This sheet is best suited to applications such as glazing or display applications such as shed windows, greenhouses or security glazing. It has excellent strength and is glass clear so its use as a glazing material makes it the perfect choice.
Why use polycarbonate?
Polycarbonate is an excellent all-rounder. It is up to 200 times stronger than glass but only weighs around half the weight. This makes it a practical material for a multitude of different uses. It is cost effective and will last well beyond the ten year warranty provided by the manufacturer.
It is a great alternative to glass, polycarbonate is safe, easy to work with and provides great light transmission when you select the clear sheet. Sheets can be cut easily and even drilled if required. Installation is easy due to the weight and sheets UV stable on at least one side to prevent 'yellowing'.
I want to use a polycarbonate roofing sheets but don't understand which is length and which is width can you help?
Flutes always run along the length and across the width of the sheets. Please see the image below.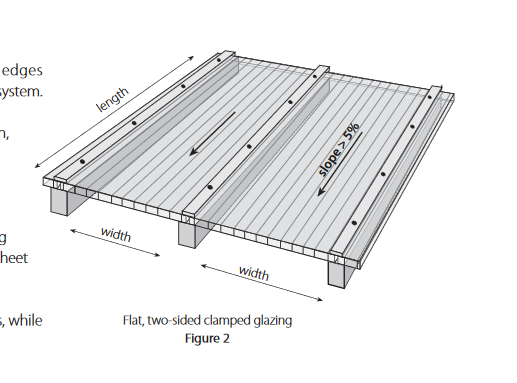 I have read that sheets are UV stable on one side, which side is outside and which is inside?
Both Solid Polycarbonate and twinwall / multiwall sheets are supplied with a protective film attached to both sides of the sheet. This not only provides protection to the sheets and prevents scratches before or during installation but also has the information relating to which side faces outwards. Generally, this is the side with the writing. If you sheet has writing on both sides of the protective film, then it is most probably 2UV meaning the UV protection is on both sides.
It should read on the film 'this side out'.
It is essential that the sheets are installed with the UV protection layer facing outwards to prevent sheets from premature ageing and yellowing.
Which sheet should I choose?
This depends on your application, budget and personal preferences on visual impact.
Firstly, it must be said that solid / flat sheets can mostly be used in the same applications as multiwall / structured polycarbonate. However, there will be a price difference between the two!
As a general rule of thumb if your project is a roofing application then a twinwall / triplewall sheet should first be considered. These sheets offer the best most cost-effective way of glazing the average conservatory, lean to, canopy or car port roof. Sheets are extremely lightweight but at the same time offer excellent strength. Structured / multiwall polycarbonate is also available in a wide variety of thicknesses starting at 4mm and going all the way through to a massive 35mm thick. We will come on to which thickness is best later in this Q & A.
If your project is for a glazing application other than roofing, then a solid / flat sheet is mostly used. These sheets again are lightweight but unlike the multiwall sheets do not have any flutes or lines in them so appear the same a 'normal' piece of glass when installed. This makes them an ideal choice if you want a sheet that is glass clear but carries all the strength of a polycarbonate sheet. Polycarbonate is virtually unbreakable so its perfect for those looking for added security in shed windows or safety in greenhouses.
Greenhouses are one glazing application whereby twinwall sheets are more commonly used than solid sheets. This is mainly due to price and the added insulation that the twinwall sheets offer over solid sheets.
I am constructing a Roof, but you offer sheets in Clear, Bronze and Opal. What is the difference and which sheet should I choose?
This is all down to personal choice. The only person or persons that can decided which roofing sheet is best for your application is you! The main differences are the light transmission - but what does that mean?
Light transmission is the amount of visible light that passes through the sheet - this is measured as a % figure.
Clear sheets offer the most amount of light transmission so naturally these are the sheets to choose if you want maximum light. Typically, clear sheets will produce a light transmission figure of between around 70% dependent upon the thickness of the material. The downside to clear is that it will show dirt and moss build up on the outside sheet more visibly so will require more routine maintenance.
Bronze sheets are very similar to clear but have a brown tint to them. Think of it in the same way as wearing sunglasses. When the sun is shining and the weather is bright it will assist in cutting down the glare, however if you were to wear the same sunglasses on a dark overcast day, they will act in the same way making the space beneath darker than usual. It should be mentioned that if you have rooms that are already fairly dark on a dull day then erecting a roof outside with a bronze or opaque roof will make them darker. Typically, bronze sheets have a light transmission of between 35% dependent upon thickness of the material.
Opal sheets offer the most privacy. They are especially useful for roofing application on semi-detached properties where privacy from next door is paramount. The sheets are white in colour and opaque. The light transmission figure for opal can be as low as 20% however this doesn't paint the full picture. Whilst the sheets are opaque and do not allow a large of visible light through being white in colour helps, as from within the space beneath it can feel light and airy as the roofing material has white diffused light. Unlike the clear sheet's opal sheets do not require much maintenance, the dirt is still there however it is not visible from within the space beneath.
You offer sheets in a variety of thicknesses - which one is right for me?
This is probably the most common question we get asked!
Fundamentally the sheet thickness is dependent upon your intended use for the space. If you are roofing a canopy, carport, pergola or shelter then insulation value is of little interest to you. Quite simply the sheet is only to act as a shelter and therefore a 10mm thick sheet could be considered sufficient.
When constructing a conservatory or habitable room whereby you do not want heat to escape then a thicker sheet is best. In applications such as this then 16mm, 25mm or 35mm thick polycarbonate roofing sheets are best to be used. These offer a better thermal efficiency (insulation value) than thinner sheets meaning that the cost to heat the room is less! In basic terms the thicker the sheets the more insulation meaning the more heat retained within the area.
We offer structured or roofing polycarbonate in 4mm, 6mm and 10mm twinwall, 16mm triplewall, 25mm multiwall (usually fivewall or sevenwall) and 35mm in seven wall.
I am constructing a roof, what do I need?
You will first need to determine whether or not you want your roof to sit on timber rafters or be self supporting. If you want your roof to sit on a series of timber rafters, then you will require our range of 'rafter supported glazing bars'.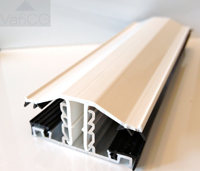 If using our rafter supported glazing bars the typical installation will require one joining bar between each sheet of polycarbonate roofing. When you get to either side of the roof then a glazing bar should be used in conjunction with a PVC F-Section to close off the edge. Sheets should be closed at the gutter end using a polycarbonate end closure to prevent
the ingress of dirt and flies etc. It is also recommended that a series of polycarbonate fixing buttons are also used to prevent wind lift of panels.
Another method for glazing a roof is by using our range of 'self supported' glazing bars.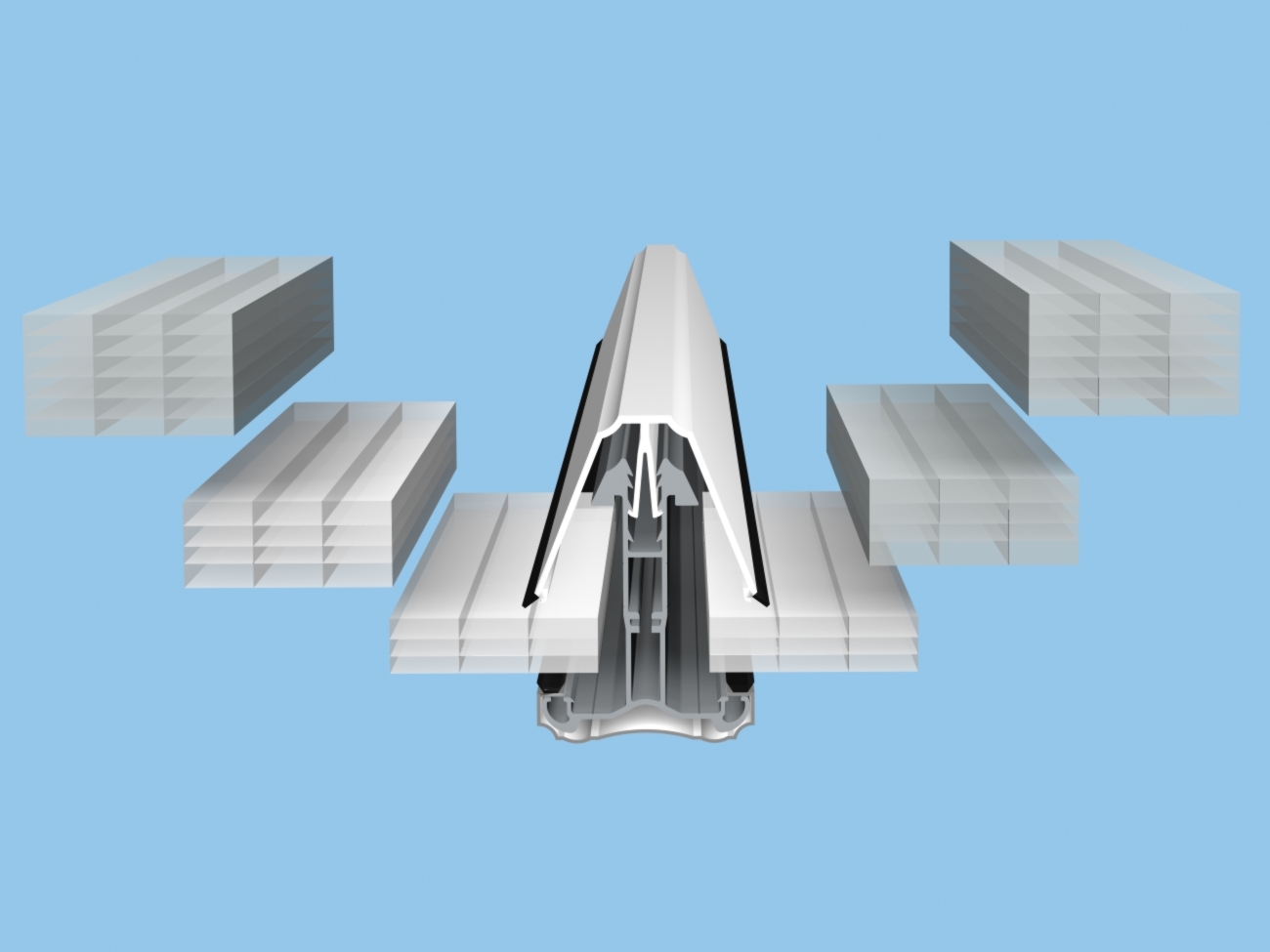 These glazing bars are only available for use with 16mm polycarbonate roofing sheets and above and are best suited for installation by an experienced DIY'er or tradesperson. Self supported glazing bars do not require a timber support beneath their length. They are 'self supporting' up to four metres. With this system it is essential that close attention is paid to the loading chart to avoid sagging sheets and / or potential failures of the supporting bars.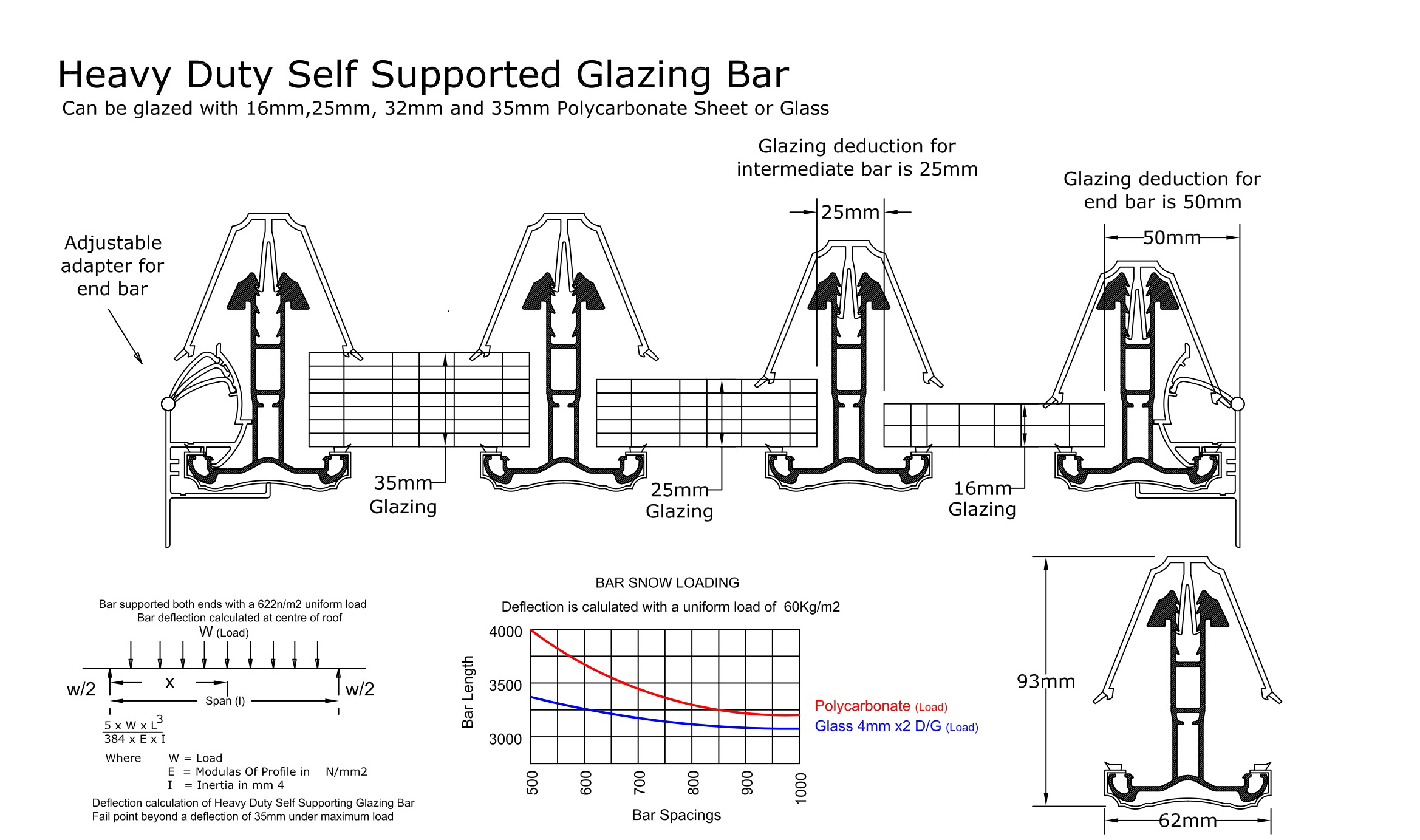 Our range of self support glazing bars included intermediate glazing bars for joining two sheets together, edge glazing bars for either end of the roof, eaves beam for the lower (gutter end) of the roof and wall plate for where the roof joins the wall. As with the rafter supported glazing bars you will still need to use a polycarbonate end closure at the lower gutter edge of the roof.
All of our glazing bars and accessories are available in white and brown finishes.
How many sheets / glazing bars do I need?
This largely depend upon the span i.e. the distance that your roof projects from your house. The general rule of thumb is the longer the projection the narrower you will need your sheets. Most of the strength in your roof comes from the structure itself the panels provide the shelter and waterproofing however the sheets should not be over-spanned as doing so will lead to potential issues such as sagging or even sheets blowing out on windy days.
As good practice we do not recommend ever installing roofing sheets above 1050mm wide irrelevant of the projection of the roof and thickness of sheet being installed. This not only allows for adequate bar spacing to prevent too much sagging but also allows for easy access to knock on your glazing bar top caps.
Remember our recommendation is 1050mm wide as a MAXIMUM, this means that in roofs that are of large projection, in coastal or in windy locations or open on all sides then panel widths should be cut to as low as 500mm wide. Rafter supported roofs can also benefit from using noggins to add additional support to panels in particularly exposed locations.
Most importantly - you are making an investment in your roofing material and undoubtedly will want your roof to last for many years. With this is mind it is worth spending a little more rather than trying to cut corners only to find you should have bought a bag of fixing buttons for under a fiver!
What is the warranty of the polycarbonate sheet available on your website?
All of our polycarbonate is covered by a manufacturer ten-year limited warranty. It is worth pointing out however that most sheets last way beyond this warranty if installed correctly.
I have my sheet, how do I cut it to size?
Polycarbonate sheets cut extremely easily. Sheets can be cut using a fine tooth hand-saw, jigsaw or circular saw. Our 4mm twinwall is even easier to cut and can be cut using a sharp Stanley knife.
Are your sheets supplied with breather tape?
Our sheets are supplied with breather tape fitted to one end of the sheet and solid tape to the other end. A common enquiry we get is which tape goes to which end?
Breather tape is installed to the lower edge of the roof (the gutter end) to allow the sheets to breathe. Solid tape should be installed at the top edge (highest most point) to stop the ingress of foreign bodies.
You can tell the difference between the tapes fitted to the panels by the presence of tiny holes = breather tape.
If you intend on cutting your panels to size, then you will need to purchase additional breather tape and solid tape to replace the tape that you will cut off. It is imperative that sheets are NOT installed without tape fitted as this will invalidate any warranty and result in sheets becoming filled with dirt, flies and other such foreign bodies.
PLEASE NOTE: Varico Ltd are wholesalers, distributors and online retailers of polycarbonate sheets, we are not roof designers, structural engineers or builders. We can offer advice on products available from our website however the products you require will ultimately be down to yourself. If you are not sure what you need then we strongly advise you check with a qualified professional. We cannot be held responsible for any issues relating to failures of roofing sheets caused by poor roof design and / or installation.